| | |
| --- | --- |
| | Food Processing Equipment |
The Live Bin Discharger, with agitators, is one of the most frequently used devices for feeding powdery materials for processing in food processing industries. It is generally used to feed material which tends to settle and clog. The agitator arms rotate to give a dynamic momentum to the materials inside the bin. The entire contents of the bin are kept 'LIVE' by imparting slow agitation. The possibilities of demixing are thus eliminated and batches of duly mixed powdered ingredients can be discharged through the discharge chute at the desired rate for further processing. The bin is generally cylindrical in shape. It has an impeller provided at the bottom, an inspection door, top cover, and an outlet with a variable opening. Capacities vary according to requirements, from 500 Kg per hour to 5 Tonnes per hour. The bin discharger is driven by a 2 HP/40 RPM to 5 HP/40 RPM drive motor.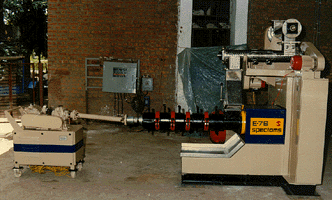 Cooker Extruder
The Spectoms single-screw extruder system is ideal for processing a wide range of cereal based products such as cereals, pulses, rice or wheat flour, oilseeds, soya, etc., to make a variety of breakfast cereals, ready-to-eat snacks, instant foods or high-protein infant foods. Conveniently interchangeable extruder components are designed to ensure low downtime and quick switchover from one product to another. Each head section is jacketed, permitting either manual or automatic temperature control of heating/cooling media according to finely regulated process parameters. A set of custom-built dies permits a wide selection of forms and shapes for the end products.
The Cooker Extruder consists of a precisely machined sturdy cast steel bearing housing fitted with heavy-duty taper roller bearings, quill shaft, dynamically balanced driving pulley-cum-flywheel mounted on the quill shaft, feeder head directly clamped on the housing with a set of intermediate and cone heads, each head jacketed to permit circulation of steam or cold water, spiralled inside surface duly hardened and a set of extruder screws specially profiled and hardened with a set of interspaced steam locks and a set of forged steel heavy-duty clamps for interconnecting heads. The entire unit is supported on a sturdy fabricated steel base on which is also mounted the main drive motor (50 HP to 215 HP) with a set of V belts.
Feed from the live bin comes to the pre-conditioner which is basically a paddle type conveyor fabricated from Stainless Steel. It is complete with inspection cover, water spray arrangement, inlet suitable for live bin outlet and outlet suitable for inlet of extruder. It is driven by a 2 HP varispeed drive motor.
Instruments & Plumbing
Temperature indicator with sensor for 5 points with selector switch.
Rotameter, stop valves and bypass valves to know the rate of flow.
Full set of flexible high-pressure hoses with quick couplers for water and steam supply to various heads.
Cooker Extruder models are available in capacities from 150 Kg/hr. to 650 Kg/hr.
Spectoms offer complete cooker extruder plants also, including mixers, feeders, pre-conditioners, extruders, dryers, coolers, flavour applicators, conveying equipment and weighing and bagging equipment, all carefully engineered and balanced, on a turnkey basis. Services may be extended to include development of raw material specifications and processing parameters to achieve the desired end product quality within the wide capability range of the extruders.
Spectoms Cooker Extruders

Model

Capacity

Drive Requirement

Small

150 Kg/Hr.

75 HP

Large

650 Kg/Hr.

200 HP

The Spectoms Modular Type Single-Pass/Double-Pass Dryer-Cooler is frequently used in the food processing, feed milling and oilseed processing industries. It is a composite unit finished with spray galvanised or Stainless Steel slat conveyor of perforated sheets fitted on the chain with a ventilation arrangement and moving over the sprockets with a variable-speed drive. The product to be dried is evenly spread on perforated apron links forming a bed of uniform height. Drying air is percolated through the contents of the bed causing the heat transfer needed for moisture migration. The dryer also includes blower, steam radiator and steam control valves. The length and width of the dryer depend on the product to be dried and cooled. The unit is provided with driving and driven sprockets built with a chain tensioning device and an overload protection shear pin and panels fully insulated to minimise the heat loss. The exhaust fan is mounted on the drier while the cooling fan is installed at the side. The air from the cooling chamber moves to the pre-heating zone and consequently to the drying zone and finally to the exhaust line. Air circulating fans circulate the hot air through the product on an apron conveyor. The exhaust fan takes the required quantity of air and exhausts it into the atmosphere. Dryer conveyors are driven by a suitably sized varispeed unit with gear box at the desired speed. Temperature sensors are provided in the heating zone which control the steam inlet to the heating coils. At the bottom two fines-collection conveyors are provided to collect the fines and remove them out of the dryer. A mechanically or hydraulically controlled oscillating spreader is provided at the inlet to uniformly spread the product on the apron conveyor if required.
The Dryer-Cooler consists of:
a) Pre-heating zone, drying zone and cooling-cum-discharge zone
b) Hot-air circulating fans
c) Exhaust fan
d) Cooling fan
e) Discharge conveyor / Fines conveyor
f) Main drive motor (variable speed) for the dryer
The entire unit is built from standardised modules which permit flexibility in construction of the dryer/cooler to suit a range of duty requirements. Capacity augmentation is possible at a later date in such modular designs.
Specifications

Heating zone area : 6 to 20 sq. m.

Width : 2 to 3.7 m

Pre-heating zone area : 2 to 10 sq. m.

Total length : 3 m onwards

Cooling area : 6 to 20 sq. m.

Capacity of cyclones : 5000 to 20,000 CFM

The Ribbon Blender is a robust heavy-duty mixer for homogenous mixing of powdered ingredients for feed or food processing applications. Mixing efficiencies of upto 1 in 1 million (1:1000,000) can be achieved in this blender. It is made from MS/SS and is supplied complete with double ribbon rotor mounted on heavy-duty bearings fitted on both sides along with bottom discharge arrangements. Inspection doors are provided for supervision. The mixer is of the drop bottom type and its outlet is controlled manually or through a pneumatically operated discharge gate.
Capacities: Suitable for mixing batches ranging from 0.5 Tonnes to 3 Tonnes. The machines are supplied with 5 HP, 10 HP, 20 HP, 30 HP or 40 HP drive motor and gear boxes as required. The mixing time is 4-6 minutes per batch. Liquid ingredients of upto 4 % can be added in the mixer.
Spectoms Ribbon Blenders

Model

Capacity

Drive Requirement

Small

250-500 Kg

5-10 HP

Medium

1.0-2.0 T

20-30 HP

The Spectoms Horizontal Dough Mixer has a robustly constructed body and it has a capacity to mix 200 Kg of dough in a batch. It consists of a U-shaped bowl made of MS lined on the inside with SS and cast steel rotor with specially configured blades. The bowl can be jacketed to circulate chilled water or steam depending on the process requirement. Provision exists for mixing to be done at two speeds with timer controls and a mechanised tilting arrangement. The contents of the bowl get emptied without any external aid. It finds uses in the biscuit making, confectionery and other food industries.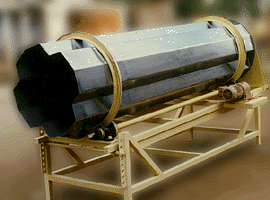 Flavour Applicator for applying spices and spraying liquids
The Spectoms Flavour Applicator is designed and engineered for the gentle and positive spraying or coating of oils, flavours, spices, syrups and other water or oil soluble additives for a wide variety of processed foods in measured quantities. A specially designed rotating drum ensures a gentle tumbling action, while the support frame is provided with a tilting arrangement to control retention time. A spray nozzle system ensures homogenous spraying. All contact parts are made from sanitary SS construction. Optional extras include steam heating coils for the removal of syrup and infra-red heaters for the even spreading and roasting of contents. It has been specially designed for the food processing industry for the post-treatment of snacks, peanuts, Bengal gram, extruded foods, potato wafers, etc. Capacities range from 150 Kg per hour to 1000 Kg per hour.

The Spectoms Moulding Machine is a rotary cutting device for hard biscuits. The moulding rolls are mounted on bronze bearings for ease of removing and changing of the rollers. Rotary cutting rollers can be easily mounted on the moulding machine. Separate rubber rollers and feed rollers ensure proper pressure and continuous feed to the moulding and cutting rolls. This machine is driven by a separate motor through a PIV drive for speed control. A conveyor is also incorporated through which the moulded biscuits are conveyed out from the machine. This machine is used in the food processing industry, specially biscuit making plants, for rotary cutting of hard and soft dough. Capacities are generally specified by the width of the oven. The standard sizes are 800 mm, 1000 mm and 1200 mm widths.

This is a specially designed machine used in the biscuit industry (and tortilla chip making lines) for manufacturing hard biscuits. It generally consists of three distinct units – three-roll sheeter, first twin-roll gauging unit and second twin-roll gauging unit. All these units can be used independently with separate motors and separate speed control devices through variable-speed drives. The thickness of the dough can be controlled accurately by using this machine. This unit also consists of conveyors for conveying the dough sheets and bringing back the unused dough for further sheeting.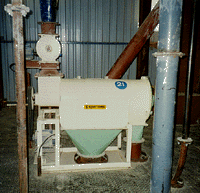 Turbo Sifter
The Turbo Sifter is an efficient, compact, enclosed, continuous sifter suitable for practically all powdery or granular materials. The Turbo Sifter can process even those difficult-to-screen materials which have high moisture or high fat contents. PVC and other plastic powders can also be processed. The machine is useful for varied applications like screening, de-agglomerating, oversize or undersize separation and solid-liquid separation.
The machine consists of a sheet metal fabricated body, a rotor and a cylindrical sieve supported on a cage. The body has an inlet opening and two outlet openings, one for size particles and another for overtails. The rotor screw at the inlet conveys the material to the stationary sieve and the rotor paddles which are centrally placed inside the sieve evenly distribute the material over the entire sieving surface. The sieving action is highly efficient and without any friction between the material and the sieve. The sieve is allowed to vibrate freely on the supporting cage for self-cleaning action. This flexibility also ensures good absorption of impact without damage in case of inclusion of heavy particles like stones or lumps in the material. Rotor paddles are designed for positive movement of material and effective removal of jute strings and such materials without blinding the screen. The rotor shaft is supported on sealed bracket bearings on either end. Dust seals are provided to ensure efficient operation of bearings over prolonged periods. A quick-opening window facilitates inspection. The front cover is designed for quick and easy removal of the sieve cage and the rotor. Easy accessibility of all contact parts for thorough cleaning and quick interchangeability of sieves facilitates the use of the same machine for various sieving operations.
Standard models are equipped with a TEFC, 3-phase, 440 V AC motor, a V belt pulley drive arrangement and a motor control switch. Drive and drive parts are covered with a sheet metal guard. The machine can be fitted directly on hoppers, bins, etc. A mobile chassis for the machine is also available. The machines are offered in MS or SS. Capacities range from 100 Kg/Hr. to 20 T/Hr., depending on the material and the sieve opening.
Among the many materials which can be processed on the Turbo Sifter are:
Baking powder
Chemicals
Dextrose
Rice, wheat and other brans
Flour
Insecticides and pesticides
Milk powder
Penicillin
Pharmaceuticals
PVC and other plastic powders
Sugar
Soaps and detergent powders
Starch
Tobacco powder
Tea
Spectoms Turbo Sifters

Model

Capacity

Drive Requirement

Mini

0.5 TPH

2 HP

Large

3 TPH

3 HP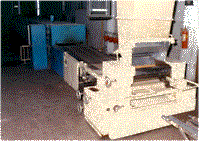 Biscuit Moulding Machine
Spectoms offer a range of gas fired/electrically heated biscuit ovens in capacities ranging from 2 TPD to 5 TPD for 800 mm to 1000 mm biscuit/cookie lines.
Desired heat profiles are achieved along different sections of the oven by accurately positioned burners or heating elements. Dampers and exhaust blower permit uniform baking across the band width. Well insulated panels minimise heat losses and guarantee operational economy. Carbon steel wire mesh or steel bands can be fitted on the oven to suit end product requirements. Self balancing band tracking mechanism and cleaning brush guarantee uniform product surface.
Spectoms also offer complete plants – including tilting-tub, dough mixers, sheeters, rotary moulding and cutting lines, wire cut depositors, stackers and conveying systems, all carefully engineered and balanced to meet throughput requirements – on a turnkey basis.

The Vegetable Dehydrator is a modular type conveyor made from Stainless Steel perforated plate sections with hinge joints pulled through the dryer by heavy side chains on each side. The inside space is provided with a regulated current of hot air to gradually and delicately heat the product and later cool it. Both zones are separated by air locks. Automatic temperature controls are provided for the optimum heating temperature so that product overheating is avoided. A variety of feeding systems are available for uniform product coverage on the conveyor. The capacity is 100 Kg/hour (input). It is used for vegetable dehydration, drying/cooling of extruded products and many other non-food applications.

The three-tier cooling conveyor ensures even cooling of biscuits. Biscuits are taken from the discharge end of the oven through intermediate conveyor to the stacking machine. Each tier is driven and controlled through separate variable-speed drives. The belt tension too can be controlled manually through tensioning devices independently mounted on each tier.

With the use of bulk storage facilities, bulk transportation has become an essential requirement for any modern feed mill or food processing facility. Different kinds of powders, pellets, granules and grains can be carried in bulk all along the distribution chain, and bagged only when absolutely necessary.
The Bulk Tanker is basically a specially shaped pressure vessel, at the bottom of which are three or four discharge cones fitted with butterfly valves to regulate product flow. The discharge valves are manifolded to a discharge pipe with its outlet at the rear bumper. The tanker can be loaded by gravity through manholes at the top; it can also be filled pneumatically. To unload, the tank is pressurised to assist the flow of material to the discharge pipe when the discharge valves are opened. The material entering the discharge pipe is conveyed by compressed air to the receiving silo. The compressed air needed for the operation is supplied by an oil-free twin-lobe type compressor driven by the tractor engine or by a separate engine. At large unloading stations, the compressed air is supplied by centralised air generating units. For powdery materials like cement, the bottom of the tanker is fitted with a specially designed aerating arrangement to fluidise the material flowing out of the tanker.
We make 5-Tonne and 10-Tonne Bulk Tankers in MS/SS construction, complete with pneumatic discharge lines, pressure balancing lines, relief valve, fluidisation unit, pressure gauge, rotary compressor and other accessories.
Spectoms Bulk Tankers

Model

Capacity

Drive Requirement

Mini

5.0 TPH

P.T.O. / 7.5 HP Motor

Large

10.0 TPH

P.T.O. / 7.5 HP Motor

The Spectoms-Breckner Universal Grinder can handle dry solids, solids in slurry, greasy solids and fibrous material in dry or moist form (upto 20 %) and wet fibrous material in slurry form in various sizes. The consistency of the feed material and the size of the ground output will determine the final capacity. The Universal Grinder is a vertical disc-shaped grinder utilising two separate grinding zones. The material to be ground is fed by a screw conveyor or a hopper to the first grinding zone where it is coarse ground. It is then fed automatically to the second or fine grinding zone, from which it is discharged under its own momentum through a top-mounted discharge chute. The direction of the movement of the material from zone one to zone two and then to the discharge outlet is controlled by fixed 'transition guides' mounted at the end of the material flow channel in each zone. An adjustable grinding zone allows the highest possible output while achieving the finest grind.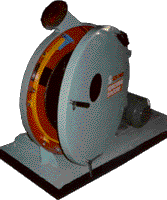 Sieveless Universal Grinder For Fine Grinding
Spectoms Universal Grinders for Fine Grinding

Model

Capacity

Drive Requirement

Laboratory

200 Kg/Hr

5 HP

CS-740

0.5-2.0 TPH

40 HP

CS-1100

5.0-7.0 TPH

120 HP

Material of Construction: Mild Steel / Stainless Steel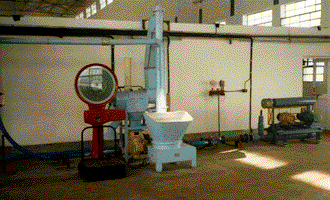 Vertilift with Bag Dumping Hopper
and Turbo Sifter
The Vertilift is a versatile vertical conveyor for economic, efficient and dust-free handling of powdery and granular materials. The Vertilift consists of a dump hopper with a stirrer, a material flow regulator and a vertical screw with drive and controls. The screw runs freely in the pipe, and is mounted on shielded anti-friction bearings. The screw and the stirrer have a common drive.
The bulk material is tipped in the dump hopper and the stirrer moves the material to the intake of the screw for positive feeding. A grill is provided in the hopper to ensure that empty bags, rags, etc., do not hamper the function of the stirrer, or clog the screw. The screw conveyor carries the material upwards and discharges it through an outlet. The upper end of the screw is designed to facilitate smooth discharge of material from the outlet. A reversible switch facilitates quick cleaning of the screw by opening the cleaning flap at the bottom of the screw and reversing the direction of rotation. The rigidly fabricated enclosed base platform supports the screw, hopper and the drive motor. Drive parts are enclosed in the platform. A vertical flange-mounted motor is rigidly fitted on the base platform. The drive motor can also be mounted on the top of the screw conveyor.
The Vertilift can handle material at any rate from 0 to 5 Cu. M./Hr. It can lift material upto a height of 2.5 M with a single screw, and more with multiple screws. The machine avoids segregation of material and ensures dust-free conveying. It avoids the need for making holes in the floor or for digging pits for dump hoppers. The unit is offered in MS or SS. For pharmaceutical, food and similar industries special designs are available which allow easy dismantling of all contact parts for thorough and quick cleaning. Various accessories like mobile chassis, hopper cover and dust collection hood for the hopper are also offered.
Among the many materials which can be handled by the Vertilift are :
| | |
| --- | --- |
| Baking powder | Pharmaceuticals |
| Chemicals | Powder for tablets |
| Detergents | PVC and other plastic powders |
| Dyes | Soap powders |
| Fillers | Starch |
| Flour | Sugar |
| Milk powder | Tea |
Overall Dimensions

Hopper

1000 mm x 900 mm x H (upto 2500 mm)

Bag Tipping Height

710 mm

Conveying Capacity

Adjustable from 0 to 5 Cu. M./Hr.

Hopper Volume

0.15 Cu. M.

Drive Power

2 - 5 HP, 3-Phase
Spectoms Vertilifts

Model

Capacity

Drive Requirement

Mini

1 TPH

2 HP

Comparative

2 TPH

3 HP

Large

3 TPH

5 HP

The Positive Displacement Type Flow Meter is an oscillating-rotary-piston type device. It has a measuring chamber and an annular piston. The liquid pressure causes the piston to rotate in the chamber. The rotary motion is transmitted to a vertically positioned indicator by means of a gear train. The piston displaces a fixed volume per revolution which is shown on the indicator. A six-digit mechanical counter continuously accumulates the total volume. If required, electronic signals can be generated for process control.
Specifications

Model
PDM 1.1/4"
Flow
5-30 Litres/Minute
Fluid
Molasses of Specific Gravity 1.4 and viscosity 200 Seconds Redwood 1 at 20o Celsius
Pressure
10 kg./cm2
Specific Gravity
1.4
Viscosity
200 Seconds Redwood 1 at 20o Celsius
End Connection
Flanged as per British Standard 'H' Table
Material of Construction
Bronze/Stainless Steel body and fibre rotor
Temperature
80o Centigrade maximum
Indication
250 mm vertical dial major graduation 10.0 Litres a revolution. Minor graduation 0.1 Litre.

Continuous six-digit mechanical counter to accumulate volume in Litres – least count 10 Litres.

Overall Dimensions
250 mm long x 350 mm high x 150 mm wide

Spectoms manufacture a complete line of flow meters and test stands for the measurement and control of flow of liquids and gases. Spectoms products are built on accuracy, high standards of quality and performance. We also provide callibration services for flow callibrators, traceable to National Bureau of Standards, USA.
For measuring the rate of flow and total flow of any gas or liquid with the highest accuracy and repeatability, these turbine meters are fitted with electronic readouts.
The basic principle is that a freely suspended rotor in a flow stream turns at a velocity directly proportional to the mass flow rate. Accordingly, the rotational speed of the rotor is displayed digitally in engineering units of flow. Within a given range this relationship is linear and thus the meter can be callibrated for a given liquid at given operating parameters. The flow rate corresponds to the revolutions of the turbine rotor.
MAIN FEATURES
More than 50 % overspeeding capacity
Double bearings provide longer life
Designed to withstand high mechanical vibrations and hydraulic shocks
High accuracy and repeatability
Easy to disassemble for cleaning purposes (sanitary construction)
TECHNICAL SPECIFICATIONS
| | |
| --- | --- |
| Accuracy : | + 0.25 % |
| Repeatability : | + 0.10 % |
| Flow Range : | 10:1 nominal. Maximum flow varies with the size. |
| Linearity : | + 0.5 % |
| Frequency output : | 120-1200 Hz nominal |
| Pressure rating at 80o F : | 2000 psig nominal. Consult us for higher pressure. |
| End connections : | 37o Flared tube |
| Material of construction : | Stainless Steel |
ELECTRONIC INSTRUMENTATION
Analog and digital flow rate indicator and totaliser, frequency counter and controls for batch process.
FLOW CALLIBRATOR CORRELATION SERVICES
The purpose of the correlation is to adjust or determine relative accuracy of a flow callibrator as compared to the National Bureau of Standards, USA. The correlation will be performed at installation site using transfer standards callibrated at the National Bureau of Standards.
APPLICATIONS
Liquid food products – milk, cream, syrups, edible oils, vinegar, etc.
Water
Air, Ammonia, Hydrogen, Methane, Acetylene, Carbon Dioxide, Nitrogen, etc.
Cryogenic Fluids - Liquid Hydrogen, Liquid Nitrogen, Liquid Oxygen, Liquid Fluorine, etc.
OTHER SERVICES
Test stands for pumps
Test stands for Hydraulic devices
Aerospace test stands for Engines
Testing devices for Automotive accessories
Custom built stands for special applications

The Rotary Valve is a device which performs a vital function in the feed milling and food processing industries. It discharges powdered materials from the cyclones of pneumatic systems without allowing air to leak past the openings. In a pressure system, it permits material to be injected in the conveying system at the feed point where there is consequently a tendency for the air to leak to the atmosphere. Besides loss of pressure, this results in considerable dust nuisance and necessitates a larger air pump and a higher power consumption than would otherwise be required. In order to overcome this problem, a rotary valve is used as an air lock. The air lock action is achieved by means of a vaned rotor rotating within a housing with a very close tolerance (maximum 0.076 mm or 0.003 inch). It either feeds materials into the conveying system or discharges materials from it without allowing the conveying air to lock nut.
The main features of Spectoms Rotary Valves are:
Sturdy housing allows no distortion due to aged castings or stress-relieved fabrication.
Precise tolerance between rotor, housing and covers prevents air leakage while allowing free material movement.
Smooth operation and long life are ensured by special bush or anti-friction bearings which support the rotor.
Dust seals protect bearings from impurities.
Air seals on side covers prevent leakage across bearings.
Bridging of material within rotor cavities is eliminated to give smooth and uniform throughput.
Specifications

Housing
MS fabrication with hard chrome plating on the inside
Rotor
MS fabrication, vane type
Cleaning Bush
Nylon wires

Available in MS as well as SS construction

Blow-through and/or gravity discharge air locks are also available
Spectoms Air Locks

Model

Capacity

Drive Requirement

15/15

1 TPH

0.5 HP

22/19

2-3 TPH

1 HP

28/22

5 TPH

1 HP

28/30

5-10 TPH

2 HP

The capacities indicated are for free-flowing powders with 0.5 Bulk Density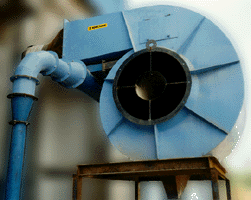 Catch Cyclone for handling Dryer Air Exhaust
Modular Filters are ideal for cleaning dust-laden air generated while handling powdered materials. They are suitable for intake dumping points, grinding mill aspiration and dust collection systems. Non-woven felt filter bags are encased in a compact sturdy sheet metal cabinet which permits easy access to the elements. Dust collection is at the bottom and there is a hood at the top for the collection of cleaned air. A motorised beating mechanism, automatically actuated by an electronic timer, is available for the periodic cleaning of filter elements. The Modular Filter works generally under a negative pressure. The dust-laden air enters at the inlet of the bottom hopper. Air having light dust particles enters into the filter bags. Because of the pressure difference across the filter element and the mechanised shaking of the filter bags, dust separated from air falls into the hopper. The cleaned air escapes from the bag sides and is diverted into the hood at the top from where a blower sucks it out and discharges it into the atmosphere. Dust falls into the hopper by gravity. Dust collected in the hopper is discharged by means of an air lock. The filter bottom may be made suitable for a rotary air lock or a collection basket. Capacities range from 100 cubic feet per minute to 5000 cubic feet per minute of dust-laden air. The models available can be provided with 5, 16 or 25 bags, as required.
For heavy-duty applications cleaning of filter elements is required more frequently and rigorously. For this purpose pressurised air is blown through the filter elements periodically in the opposite direction of the clean air cleaning the filter. The sequence and duration of this blast is controlled by an electronic sequence controller. These units work as Dust Collectors and can operate using rinsing air from a high-pressure compressor or a roots blower and can work under negative as well as positive pressures. These units are made with 8, 16, 32 and 96 bags, with cleaning for individual bags or for a group of bags at a time.
Spectoms Modular Filters

Model

Capacity

Drive Requirement

Mini

5 Bags

Manual Shaking

Comparative

16 Bags

0.5 HP

Large

25 Bags

0.5 HP


Pneumatic Handling System in
Food Processing Factory


Suction Type Pneumatic Conveying System
using twin cyclone separators
Spectoms Pneumatic Conveying Systems are ideal for the bulk handling of various free-flowing materials in powder or granular form. They are specially designed and extensively used in the feed milling and food processing industries. The conveying systems are fabricated from epoxy powder coated steel, stainless steel or aluminium, as required by the application. Individual solutions are developed for each customer, based on the specific conveying problem, the conveying capacity required and the conveying distance.
Suction Conveying
Suction conveying is ideal for many pick-up points but one delivery point.
It is the simpler and less expensive solution.
If the system operates without over-pressure, better dust control is achieved.
Pressure Conveying
Pressure conveying is ideal for one pick-up point but many delivery points.
It is used for longer conveying distances, bigger capacities and higher conveying pressure.
Suction/Pressure Conveying
Suction/Pressure conveying is ideal for many pick-up points and many delivery points.
It carries the product directly into silos to avoid any additional receivers.


Mobile Salt Iodisation Plant
(Side View)


Mobile Salt Iodisation Plant
(Rear View)
The Spectoms Salt Iodisation Plant can be transported to any destination and operated efficiently in the remotest places. Our plants are used extensively in Iodine Deficiency Eradication Programmes in different parts of India and countries like Tanzania and Ethiopia. Driven either by diesel or electric power, the plant consists of dumping, iodine spraying, mixing-conveying and finally the collection of salt at the end of the conveyor. The capacity ranges from 500 Kg per hour to 10 TPH. Spectoms also make Salt Crushers for capacities from 5 TPH to 15 TPH.
Our complete range of products pertaining to the Iodised Salt Industry are: SS Conveyor; SS Sieve; SS Iodine Dryer; SS Salt Crusher; Weighing System; Bagging System; SS Air Lock; SS Spray Chamber.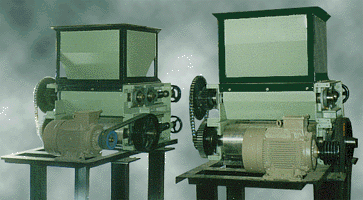 Salt Crusher (Capacity: 15 TPH)
The Spectoms Salt Crusher is used in the iodised salt industry for crushing raw salt granules from 25-30 mm size to 5 mm size. It consists of: MS stand, with or without castor wheels; feeding and crushing rollers; adjustable scrapper in SS construction; bearing housing complete with bearing; feeding hopper made of SS; 3-phase main drive motor; drive parts (belts, pulleys, tools, etc.). It is provided with a 100 Kg to 250 Kg intake hopper made of SS. The capacities offered are 5, 10 and 15 TPH.


Section Under Construction

This machine stacks regularly formed products like biscuits on their edge. Rectangular products like biscuits are needed to be stacked to be taken to the packing machine or directly for hand filling. The stacking machine comes with suitable woollen belt, stacking roll and stacking plates with tension adjusting rollers. It is independently driven and controlled with a PIV drive.


Section Under Construction


Section Under Construction


Section Under Construction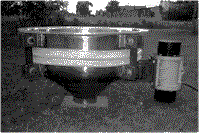 Bin Activator
The Spectoms Vibratory Bin Discharger is ideal for the uniform discharge of non-free-flowing materials such as high-oil-content flours, baby foods, high-protein blends, etc., from storage bins or silos. The discharger has a specially designed body, adequately reinforced to mount an eccentrically loaded discharger motor. Special flexible rubber connections isolate vibrations completely from the main discharge bin while permitting unrestricted movement of the discharger cone, which is supported by a special arrangement of forged links and rubber bushings. The Vibratory Bin Discharger is available in capacities ranging from 1 TPH to 15 TPH, in either Mild Steel or Stainless Steel construction, depending upon the application.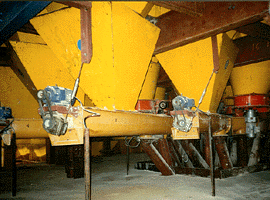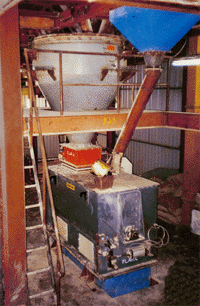 Electronic Batching Scale with Pneumatic Flap.
The picture shows the feeder (above) and the mixer (below).
The Load Cell Type Electronic Batching System is used for the preparation of a batch of upto 20 ingredients discharged and weighed accurately in a Batch Hopper. It facilitates pre-programmed intake of feed ingredients, their weighing and then their discharging to the conveying system. The Batching System consists of a Batch Hopper of 1 to 2 MT capacity with a pneumatically operated gate. The hopper is supported on load cells and is provided with a weight indicator. The material is fed from ingredient bins provided with the dischargers according to the process formula pre-stored in the memory. As many as 100 feed formulae can be stored in the memory and batches can be prepared accordingly. The accuracy of the system is 0.2 %. The machine ensures faster weighing cycles, increased batch to batch consistency, tighter tolerance and accuracy, more efficient use of manpower and reduced unscheduled down time.

The Spectoms Slicer can slice soya nuggets and other free-flowing dry or semi-dry products such as textured vegetable protein, peanut butter, corn mash and cheese.
The standard operations include: reduction to smaller size; granulation; milling; flaking; slicing; dispersing.
The machine's sealed enclosure prevents the escape of fine emulsions during operation. Its SS construction ensures maximum durability and sanitation. The capacity ranges from 0.7 TPH to 1.5 TPH.