Plant for IPL commissioned
100 TPD Cattle Feed Plant for Indian Potash Limited was commissioned during 3rd week November 02. This is the first plant put up by IPL towards their diversification program. IPL is now entering the new business line of Cattle Feed manufacturing and marketing.
Eastern Hatcheries for pelleting plant
Eastern Hatcheries Limited, Bhubaneshwar is going for pelleting plant for their production unit at Baripada near Tatanagar. SPECTOMS will supply complete plant for Grinding, Mixing and Pelleting sections. This is going to be the first pelleting plant by Eastern Hatcheries to be put up in the border district of Orissa, West Bengal and Bihar.
Poultry Manure plant for Abis Exports
Abis Exports Limited, Rajnandgaon is putting up a plant for converting poultry litter in to pelleted manure by using Grinding, Mixing and Pelleting equipment to be supplied by SPECTOMS.
Laboratory Pellet Mill for IRR
National Institute for Research in Reproduction (Formerly Institute of Research in Reproduction), Mumbai has ordered a Laboratory Pellet Mill for in house production of pelleted feed for the laboratory animals. The institute has a very big and complete Animal House with animals like Monkeys, Mice and Rabbits for research on Reproductive health.
New design Wipers
SPECTOMS will supply new design of Window Wipers to Bharati Shipyard Limited, Mumbai for 2 Men Ferry's being built by them for Indian Navy. This newly designed Wipers are very compact in size and light in weight - Most suitable for the modern vessels.
India's Poultry Industry


India's poultry industry has an annual turnover of about Rs.120,000 million. The per capita consumption of eggs is 42 and the industry produces 37,000 million eggs, which put India at the third position, just behind China and the USA. The per capita chicken consumption is 1 kg, and the industry produces 1,000 million broilers annually. The poultry industry generates employment for 2 million people, and an increase in the per capita consumption by just one egg. (or by just 50 gm of poultry meat) will create employment opportunities for another 26,000 persons.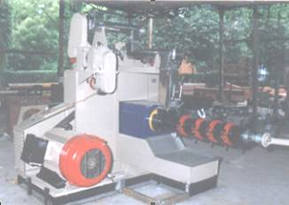 Extruder For Full Fat Soya
Spectoms have indigenously developed and commissioned an extruder with a 200 HP motor and dryer for Abis Exports Limited (Rajnandgaon, Chhatisgarh). It processes soya seeds to denature protein for using it in animal feed formulations. Spectoms is also involved in the expansion in the same plant to incorporate a seed cracker, hull separator and screening equipment. Full fat soya has oil as well as more protein and it is an easily available replacement for many important and more expensive feed ingredients.
Replacing The Feeder-Conditioner In Old Feed Milling Plants Improves Profitability
Recent studies have revealed that good quality poultry feed pellets in smaller diameters (3 mm) can be produced if the feed temperature is raised gradually to 90 D Celsius and above before it enters the pellet mill. This is not really possible in most of the existing feed milling plants because they have pellet mills with a standard single feeder-conditioner which were mainly used for making cattle feed or larger diameter poultry feed pellets. The heating process must be gradual, with at least 15 seconds of retention in the conditioner prior to feeding to the pellet mill. Spectoms have now developed a method whereby the old type of feeder-conditioner is replaced by a two-stage process where the feeder and the conditioner are separate, with the conditioner in a jacketed construction. The existing layout is studied carefully and a suitable length of conditioner and feeder are designed and incorporated.
Plants Commissioned Recently
Among the feed milling plants recently commissioned by Spectoms:
Shivshakti Agro India Ltd., Kolkata, West Bengal:
100 TPD Poultry Feed Plant, in January 2002
Agrima Feeds Pvt. Ltd., Ahmednagar, Maharashtra:
100 TPD Cattle Feed Plant, in February 2002.
If you have any questions or comments or suggestions, please write to:
N. D. Bhuptani, Editor, Footprints
Email: spectoms@sify.com
spbmwad1@sancharnet.in